Rents are rising and incomes are not, which makes it hard for millennials to move out of their parents' homes
For young Americans, the smallest step toward independence has begun to seem hopelessly out of reach, even if that step is simply to move out of their parents' home.  In 23 of the largest 50 cities in the country, most rental homes are unaffordable for millennials, according to an analysis conducted for Bloomberg by real estate listing website Zillow. In those cities, which dot the country's coasts and southern border, the majority of rental listings were too expensive for millennials who are looking to spend no more than 30 percent of household income on rent.
The gap between what young people earn and what they pay to rent is widest in Miami, where millennials are priced out of 92 percent of all rental listings. Such cities as Los Angeles, San Francisco, and New York draw young migrants who might expect to face high costs, and they are living up to their reputation as pricey metros: Less than 30 percent of rentals are affordable for young adults.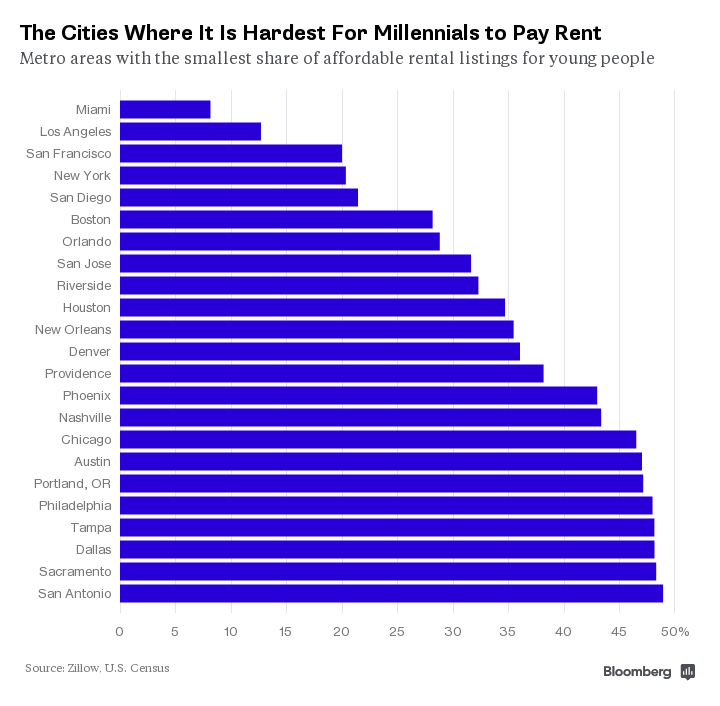 "We are experiencing what we have called the national rental crisis," says Svenja Gudell, senior director of economic research at Zillow. "Rents keep going up and incomes do not, especially at the bottom and the middle class, and so people have to spend more and more of their monthly income on rent." Rents have risen around 15 percent since 2010, according to Zillow, while the income for the typical American family has barely budged since 1988.
Across the country, only 36 percent of all rentals listed in the first quarter of 2015 were priced within reach for millennials. Zillow calculated affordability by looking at the median income for households headed by millennials, according to Census data, and then matching it with the share of rental listings in its database that cost no more than 30 percent of that intake.
Paying tens of thousands of dollars to stake out a bed somewhere is a short-term solution that worsens the problem. Gudell says that part of the reason millennials find themselves unable to buy homes is that the money they might have put toward a down payment is disappearing into the pockets of America's landlords. There are 13 cities where millennials couldn't pay the mortgage for a typical home, based on their earnings, Bloomberg reported last month.
"People still want to be homeowners; it's still ingrained in their psyche as a part of the American Dream," says Gudell. "It's just taking them a whole lot longer than it used to."
Correction, July 8: adds the accurate percent of affordable listings in Los Angeles, San Francisco, and New York in second paragraph.